Here is a list of the Blog Parties I like to sometimes participate in.
(some are seasonal and hibernate for winter)
Weekly:
MONDAY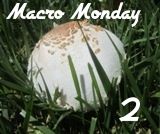 In a Vase on Monday
@ Rambling in the Garden
TUESDAY
WEDNESDAY


SATURDAY
Monthly:
Garden Bloggers Bloom Day
(GBBD) at May Dreams on the 15th of the month
Foliage Follow Up
the day after bloom day
Wildflower Wednesday
at Clay and Limestone on the fourth Wednesday of the month
End of the Month View
at The Patient Gardener
General Info
I have been meaning to spend more time perusing this site with its loads of useful info about how to connect with other garden bloggers.
Garden Blog Directory
from the really excellent resource: "Cold Climate Gardening"
A "top 50" blog list
that I recognize a few blogs on, including Cold Climate Gardening, coming in at a very respectable number 5.
If you are not just in my zone, but actually in my area, then this site with info about
Invasive Species in Manitoba
is a must read.
Blog Directories I have registered with
http://www.blog-search.com/
http://technorati.com/
http://www.blogcatalog.com/
http://globeofblogs.com/
http://www.bloggingfusion.com/